A. Booker Prize winners and Short Listers, Salon top ten and other literary award winners:
Pat Barker, "The Ghost Road"

From the library on Audio Cassette. Booker winner of 1995. Started Listened to it January 1-7. A haunting look at World War I's effect on Great Britain. The gut wrenching ending will stay in my mind for a long time.



Kazuo Ishiguro, "When We Were Orphans"

nominated for the Booker in 2000. From the library on audio cassette. Listened to it January 8-12. This book started out wonderfully and got sillier and more inconsequential as it went on until I was glad to see it end. Some interesting stuff about the far east just before World War II, but overall a disappointment.



Beryl Bainbridge, "Every Man for Himself"

On the 1996 Booker short list. From the library on audiocassette. Listened to it January 13-17. Beryl Bainbridge is a very entertaining and literate writer. This was a highly enjoyable book.



Clare Morrall, "Astonishing Splashes of Colour"

On Booker 2003 short list. From the library. Read it January 17-30. Well written story of a woman struggling to maintain sanity in a world crumbling around her. I enjoyed it.



Thomas Keneally, "Schindler's Ark"

Booker winner of 1982. Made into the movie Schindler's List. From the Library on audiotape. Listened to it January 18-February 5. This is more an amazing history book than a novel. The award was more for the skill of the author in making history come alive than creating anything from within, but nevertheless it is an indispensable insight into the horrors of World War II. Highly recommended.



Patrick McCabe, "Breakfast on Pluto"

Nominated for the Booker in 1998. From the Library on audiocassette. Listened to it Feb 5-10. The best thing I can say for this was that it was short: only four tapes. The only other good thing I can say is that it was read with great conviction and theatrical ability by the author. The book itself was an awful mess, by far the worst Booker nominee I have read.



Barry Unsworth, "Morality Play"

A Booker nominee from 1995. From the Library on audiocassette. Listened to it February 10-14. What a little gem this was! Set in England during the declining of the black plague of the middle ages, a troupe of players visit a town to discover a boy has been murdered and decide to adlib a play on the death of the child. Riveting. Highly recommended.



Penelope Lively, "According to Mark"

Booker nomination of 1984. From the library on audiocassette. Listened to it March 2-8. While this was not as good as the wonderful Moon Tiger by Lively that I listened to last year, this book was absolutely wonderful from beginning to end. Lively's characters are strikingly real. They leap off the page and become a part of your life. Do yourself a favor and read some of her books soon.



Ian McEwan, "The Comfort of Strangers"

Booker nominee from 1981. From the library on audiodisc. Listened to it March 7-11. Creepy and Disturbing. Not worthy of the nomination. Way below the quality of Amsterdam and Atonement.



Muriel Spark, "Loitering with Intent"

Boomer nominee from 1981. From the library on audio disk. Listened to it March 12-18. Ms Spark had a great idea, a Wodehousean twist of plot in which a woman writing her first novel bases a character on her employer who is writing his autobiography, the employer steals the manuscript and inserts the best bits into his autobiography. Unfortunately "Loitering With Intent" is not all that well written, and is a major disappointment.



J.M. Coetzee, "Disgrace"

booker winner of 1999. A loaner from Paul. Read it March 21-30. A wonderfully written book that is profoundly depressing. The recurring theme of killing dogs made me very uncomfortable.



Alan Hollinghurst, "The Line of Beauty"

Booker winner of 2004. Also one of Salon' Top Ten books of 2004. Read it May 2-6. Interesting but not at all the equal of Cloud Atlas. This book must mean a lot more to British who were politically involved during the Thatcher years. The homosexual sex was way too explicit for this heterosexual's taste.



Achmat Dangor, "Bitter Fruit"

on Booker short list of 2004. From the library. Read it May 7-8. I very much enjoyed this study of life among the new lower middle class after the end of apartheid in South Africa.



Brian Moore, "The Doctor's Wife"

Booker nominee from 1976. On audiocassette from the library. Listened to it April 30th-May 10th. The title character, from Northern Ireland, waits until she is almost 40 to have her "coming of age." Well written, sexy novel.



William Trevor, "The Story of Lucy Gault"

nominated for the Booker in 2002. Read it May 10-18. Trevor spins beautiful pictures with his words. There's not much to the story, but it was a very nice read nonetheless, evoking memories of the kind of fiction that Thomas Hardy wrote so long ago.



Beryl Bainbridge, "The Bottle Factory Outing"

nominated for the Booker in 1974. From the Library on audiodisk. Listened to it May 12-19. Bainbridge takes a basically comical look at a pair of poor working girls and turns it into a moving portrait of life among Britain's working poor. A very good read.



Beryl Bainbridge, "The Dressmaker"

Booker nominee from 1973. From the Library on audiodisk. Listened to it May 20-26. Not nearly as good as her later books. Well drawn characters.



Carol Shields, "Unless"

Nominated for a Booker in 2002. Read it June 25-30. A very wonderful and well written book. I was greatly moved by the problems of the narrator. The ending left me a little skeptical, but I suppose events sometimes work out that way. This book is just one more bit of evidence of what an extraordinary year for fiction was 2002. This book could easily have won the Booker if it was not up against "The Life of Pi."



Margaret Atwood, "The Blind Assassin"

Booker winner of 2000. Read it July 30 - Aug 16. This is the second book I've read by Atwood. In both books all the characters are completely unhappy with no hope for any kind of redemption or chance to find happiness. Atwood can really write, but I prefer a little hope mixed in with the misery.



Gerard Woodward, "I'll Go to Bed at Noon"

From the library. Read it September 20th - October 17th. On Booker short list of 2004. A tragic story of the nightmare that alcohol can do to wreck a family. Deeply moving even though I didn't care much for any of the characters. They were skilfully drawn, every one having at least some redeeming qualities.



Sarah Hall, "The Electric Michelangelo"

On Booker short list of 2004. Read it August 30th - October 24th. Hall's writing style is unusual, almost like poetry. As such one must pay closer attention than usual while reading it or one gets lost in an avalanche of words and images. There are more than a few flashes of brilliance in the book, and it is well worth reading, but I can't help but wonder if it was worth the overall effort. Definitely an author to look out for.



Susanna Clarke, "Jonathan Strange & Mr. Norrell"

One of Salon' Top Ten books of 2004. From the Library on Audiodisk. Listened to it September 29th - October 27th. Lots of riveting fiction embedded in this overstuffed book. I enjoyed it immensely but wish it had been better edited. Clarke's characters were well drawn and the silliness of magic was kind of a distraction from the more human themes of love lost and warfare among former friends.



Kazuo Ishiguro, "Never Let Me Go"

On the 2005 Booker short list. From the library on Audio disk. Listened to it October 28th - November 1st. It took me a while to warm to this book since I was so disapointed with the Ishiguro I read in January. But this book is MUCH better and more deserving of its place on the short list. The story tells the lives of human clones who are manufactured for the purpose of providing organs for real people. But the clones are deeply human and break our hearts with their short sweet lives. A book to make one think long and deep about modern science.



Zadie Smith, "On Beauty"

On the 2005 Booker short list. From the library. Read it December 6th-11th. Zadie Smith is a fabulous writer and this book was just as much of a joy as her previous two. Great characters, deep insights into life and wonderful plotting are startling coming from one so young. The future of literature burns bright! Highly recommended.



Sebastian Barry, "A Long Long Way"

On the 2005 Booker short list. From the library. Read it December 12-19. A very moving account of the Irish volunteers that fought in World War I. They faced discrimination from the the home rule advocates in Ireland and the British in the trenches.



John Banville, "The Sea"

The 2005 Booker Award Winner. From the library. Read it December 26-29. I cannot imagine what prompted the Booker judges to give the prize to this book. The other three candidates that I have read so far are either as good or better than this one, a short bitter rumination on life by a man whose wife just died. Very well written, of course, but not nearly as powerful as Barry's "A long long way" nor as thought-provoking as Ishiguro's "Never Let Me Go" nor as insightful as Zadie Smith's "On Beauty."
B. Wodehouse:
P.G. Wodehouse, "The Code of the Woosters"

One of the finest works by the great master. Read it January 13th-February 12th. A joy from page one to the end. Bertie doggedly attempts to make sure his fish-faced friend Gussie Fink-Nottle marries Madelyn Bassett because he knows all too well that if the marriage falls through, Madelyn will expect Bertie to marry her. Jeeves uses his "psychology of the individual" to rescue various characters from seemingly inextricable difficulties. Highly recommended.



P.G. Wodehouse, "Eggs, Beans and Crumpets"

Drones club short stories from the master's best period: the late 1930s. Reading it May 20-26. Many laugh out loud moments. Bingo Little was a fabulous character.



P.G. Wodehouse, "The Prince and Betty"

Rare early Wodehouse. Started Read it August 17-25. Wodehouse was still finding his way as an author but there is much to admire in this book. From the social commentary on the tenements of New York City to the boxing exploits of his beloved Kid Brady, this is a fun read.



P.G. Wodehouse, "The Golden moth"

Lyrics to a 1921 musical. Read it December 30-31. A forgettable piece of fluff. A couple of chuckles and that's it.



P.G. Wodehouse and Ian Hay, "A Damsel in Distress"

A 1930 play based on Wodehouse's 1919 novel. Read it all December 31st. Absolutely delightful. A pleasant way to end a year's worth of reading. It's too bad that Wodehouse's plays are so hard to find. He was a masterful humorous dramatist.
C. Other Fiction:
Noel Coward, four plays

"Blithe Spirit," "Hay Fever," "Fallen Angels," and "Present Laughter" from the library on audiocassette, performed by the Los Angeles Theater Group. Listened to it Feb 15-Mar 1. Richly rewarding works with incisive insights into human nature. Perhaps the wittiest dialogue I have ever heard. And Yeardley Smith as a too-too smart secretary is a revelation.



Andre Gide, "The Counterfeiters"

A 1931 edition from my Modern Library Collection. Read it Feb 6-Mar 6. Startlingly modern and a delight to read. Gide's insights into the human condition are broad and deep. He has deeply honorable characters mixed in amongst evil cads. Truly the 1920s were exciting times for European literature.



Philip Roth, "The Plot Against America"

From the library on audiocassette. Listened to it March 19-29. This book was not bad, but it was a major disappointment after all the good things I read about it. Roth is all over the lot, trying to tell the big picture and the little picture in the same story and not bringing the two together all that well. And the surprise plot twist at the end of the book was pathetically unbelievable.



George S. Kaufman "Broadway Comedies"

A Christmas gift from Angela. Read it March 31st-April 24th. Nine plays written over a seven year period by a comic genius at the height of his powers. An absolute delight throughout all of its almost 850 pages. A beautifully put together book with lots of footnotes and biographical information.



Michael Tolkin, "Among the Dead"

Recommended by Cliff. Read it May 9-10. Incredibly creepy and unsettling. A man dallies with his mistress and misses the plane he was supposed to take with his wife and daughter. The plane crashes and lots of guilt ensues. Disturbingly intense.



Charles Jackson, "The Lost Weekend"

A volume from my Modern Library collection published in 1948. Read it May 28-June 5th. Extraordinarily moving. Accomplishes its goal of shining a light on the self centered sickness of the alcoholic mind and the deterioration of the alcoholic body.



Carl Hiaasen, "Stormy Weather"

Humorous crime novel on tape from the library. Listened to it May 26-June 9. Another wonderfully wacky and warm novel from the talented south Florida novelist. I will long remember many of the characters in this book. Perhaps this one wasn't as laugh out loud funny, but it was definitely a fun read.



Hermann Sudermann, "The Song of Songs"

Published by the modern Library in 1929. Read it July 1-16. Must have been hot stuff when it first came out in 1908! A wonderfully written novel of the twists and turns in the life of a poor beautiful woman in Germany before any social safety nets were established. A deeply satisfying novel.



Craig Clevenger, "The Contortionist's Handbook"

from the library. Read it September 21-23. A "you must read this immediately!" recommendation from Cliff. Extremely well written, harrowing first novel telling the story of a young man's struggle to stay out of mental hospitals.



Mel Brooks and Carl Reiner, "The 2000 Year Old Man Goes to School"

A gift from Angela. Read and listened to it October 30-31. A children's book containing highlights of Mel Brook's classic character. Includes and 8 minute cd with the same material.



E.M. Forster, "Howard's End"

Prep work for the reading of Zadie Smith's "On Beauty." From the library on audio disk. Listened to it November 10-18. Intensely moving story of class conciousness among the turn of the century British upper middle class. Brilliantly written, this is truly a masterpiece of fiction. Highly recommended.



Elizabeth Kostova, "The Historian"

A gift from Susie George. Read it October 25 - December 5. I suppose some kudos must go to the author for keeping the story moving for so many pages, but overall the writing was just a shade better than mediocre and the plot somewhat muddled. A few of the characters were well developed, others were mere outlines. The Dracula legend in history was mildly interesting, but for me it did not translate into an entertaining thriller. Katherine Neville did this kind of novel much more expertly in "The Eight."
D. Non Fiction:
Roberto Mangabeira Unger and Cornel West, "The Future of American Progressivism"

A Christmas gift from Rob. Read it January 1st-3rd. Some good idea such as appropriating a portion of charitable donations toward a common fund to be used where social policy dictates it is needed most. Some startling positions such as endorsement of the flat tax concept. A short but interesting and thought provoking book.



George Lakoff, "Don't Think of an Elephant"

A Christmas gift from Rob. Read it January 3-8. An eye-opening book for me. A man who is a linguist and cognitive scientist describes what the right wing is up to and ways in which progressives can fight back.



Donald F. Reuter, "Songbird, Fabulous Vocalists from Billie Holiday to Britney Spears"

a Christmas gift from Kathy. Read it January 9-13. A wonderful full color picture book with plenty of documentation on hundreds of female singers. A valued reference work.



Joseph Hofmann, "Piano Playing with Piano Questions Answered"

A Christmas gift from Rob. Read it Mar 6-20. A fun read. Not much useful advice, but it's interesting to get his perspective from an earlier generation: always clean the keys before you play, practice two hours in the morning and one in the afternoon every day, take lessons at least twice a week, etc.



Paul Krugman, "The Great Unraveling"

A Christmas gift from Dom. Read it April 25th-May 1st. Krugman is a genius. Since most of the stuff in the book was old newspaper columns, it was easy to understand. I only got lost once when he talked about floating Canadian currency against the US Dollar, but I forgive him for that. Krugman is a great thinker and I thoroughly enjoyed going over all these columns a second time.



Conyers Report, "What Went Wrong in Ohio: Report on the 2004 Presidential Election"

Read it June 15-18. This short book spells out the lengths the Republicans went to assure that the voters of Ohio would not get to usher John Kerry into the white house. Depressing but important. Highly recommended.



Peter Barham, "The Science of Cooking"

A fathers day present from Rob. Read it July 17-24. Fascinating. I'm not much interested in science, but the author made most things clear to me. The fact that he is British is amusing, because in my opinion, British food is the worst!



A.J. Jacobs, "The Know It All: One Man's Humble Quest to Become the Smartest Person In the World"

Recommended by Madaline. From the library on audio disk. Listened to it November 3-9. A total delight. Jacobs has a fabulous sense of humor and spins a tale of what his life during the year he worked his way through the reading of the 2002 edition of the Encyclopedia Britannica. This was one of those rare books that wished was even longer. Highly recommended.



Al Franken, "The Truth, with Jokes"

The brainy comedian's latest take on the right wing and current events. Read it December 20-25. Franken is a very funny guy with immense intelligence. He knows how to cut away all the fat from an issue and shine a light on the central points that make the conservatives so repulsive. This is his best book. It glows with righteous indignation and, more importantly, hope for the future. Highly recommended.
E. Mysteries:
Sue Grafton, "R is for Ricochet"

From the library on audio disc. Listened to it February 18-27. Why Do I still read Grafton? She hasn't written a corker of a mystery in years. I suppose I am addicted to this series like people become addicted to soap operas, I just want to keep up with the characters. Kinsey Milhone is a delightful protagonist as are the other recurring characters in the books. This "mystery" had nothing to solve or figure out, and there was no violent crime until practically the end of the book. Still, the process of money laundering is clearer to me after reading this book, so I guess that's one mystery solved.



Ed McBain, "Hark"

From the library. Read it May 6-7. An enjoyable read. Not as strong as many in the series. McBain ties up a number of loose ends left hanging in the past few books and creates a few new ones.



Martin Amis, "Night Train"

Read it all May 9th. A post modern mystery from one of England's best contemporary novelists. Amis almost pulls off the trick of sounding like a tough female American cop. Almost. But it's fun watching him try to dumb himself down to an American level.



John Dickson Carr, "Castle Skull"

1931 mystery. Read it May 19-27. Inspector Bencolin solves an incredibly complex mystery in which everyone appears guilty right up to the last chapter. The Castle is well described and creepy.



Marcia Muller, "McCone and Friends"

Mystery short stories. Read it June 6-14. The longest of the stories was the most entertaining, an 80 page novelette that contained the best examples of Muller's talents. Most of her books could be condensed to this length.



Margery Allingham, "Police at the Funeral"

1931 mystery. From the Library on audiocassette. Listened to it June 10-21. Took a long time getting going, but once she hit her stride it was a good mystery.



Ellery Queen, "The Dutch Shoe Mystery"

1931 mystery. Read it June 19-24. Ellery Queen takes great pains to let the reader know that he has all the clues he needs to solve the mystery before he reveals who committed the murders. I was still at a loss, but enjoyed reading the lengthy explanation.



Margery Allingham, "Look to the Lady"

1931 mystery. From the Library on audiocassette. Listened to it June 22nd - July 1st. Absolutely the worst Albert Campion mystery so far. I'm putting Margery on probation.



John Dickson Carr, "The Hidden Gallows"

1931 mystery. Read it July 25-29. A complex and totally satisfying tale from a master of the genre. Inspector Bencolin wins his bet that he can identify and capture the criminal within 48 hours.



Dashiell Hammett, "The Glass Key"

1931 mystery. Started Read it August 26-29. Not on a level with The Maltese Falcon, but a lot of fine tough-guy writing and a fairly decent plot involving crime and local politics.
total books read in 2005: 62
total from the library: 30
total listened to: 21

---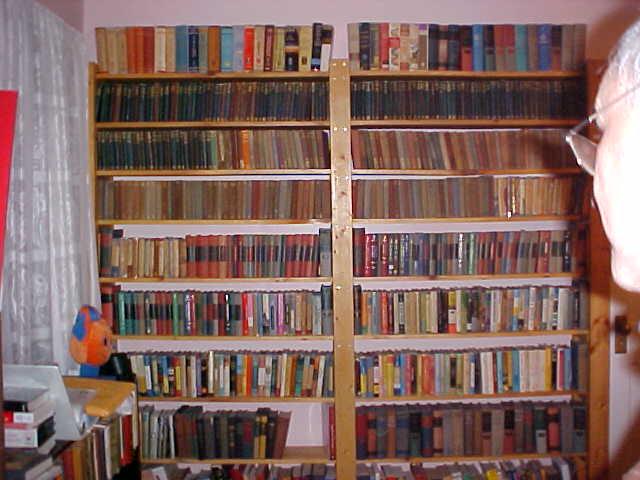 ---
On to next year!


Back to last year!


To home page