A. Booker Prize winners and Short Listers, Salon top ten and other literary award winners:
Julian Barnes, "Arthur & George"

2005 Booker nominee. From the Library. Read it January 29th-Feb 1st. A fabulous book that probably should have won the Booker or at least tied with "On Beauty." Barnes explores the lives of author Arthur Conan Doyle and lawyer George Edalji. The writing is wonderful and the insights into life, both Victorian and modern day are many and deep. Highly recommended.



Ali Smith, "The Accidental"

2005 Booker Nominee. From the Library. Read it February 2-8. A wonderfully experimental novel that doesn't finally quite deliver. But there are many enjoyable parts even if they don't all add up.



Arundhati Roy, "The God of Small Things"

The 1997 Booker winner. Read it February 28-May 19. Although I found this book very difficult, due to it's immersion in Indian culture that I know nothing about, and because of her very original writing style, I really enjoyed this book. I will definately read it again someday. A Lot of deep feeling and insight obviously went into this book. Highly recommended.



William T. Vollmann, "Europe Central"

National Book Award Winner of 2005 and A Christmas Present from Kathy. Started reading it July 8th. Stopped on August 19th. Read the first 200 pages and couldn't get interested in it enough to go on.



David Mitchell, "Black Swan Green"

Started Read it August 29th thru Spetember 10th. It's on the Booker Long list. It didn't make the short list? Flashes of brilliance inside an enjoyable novel. Only because of his other novels is there a slight sense of disappointment.



Sarah Waters, "The Night Watch"

On the 2006 Booker Short list. From the Library on audiodisk. Listened to it September 14th-21st. Interesting tale of lives disrupted by the Second World War. A little too heavy on the lesbian lovemaking for my taste.



Kiran Desai, "The Inheritance of Loss"

On the 2006 Booker Short list. From the Library. Read it September 15th-21st. Somewhat unsatisfying story of life during the Gurkha revolt in Nepal in 1980s.



Edward St Aubyn, "Mother's Milk"

On the 2006 Booker Short List. From the library. Read it September 22nd-24th. Very entertaining but standard treatment of a family with young precocious children. The best part was the tearing apart of the current American political scene near the end of the book.



M.J. Hyland, "Carry Me Down"

On the 2006 Booker Short List. From the Library. Started Read it September 24th-28th. Extremely well written and engaging story of a rather lower class eleven year old Irish boy.



Kate Grenville, "The Secret River"

On the 2006 Booker Short List. From the library. Read it Sept 29th-Oct 2nd. A deeply interesting book that shines a light on the dark times for the poor in England and their struggle for opportunity in Australia. I enjoyed this book. Not sure how great it is as literature, but it was definately worth reading.
B. Wodehouse:
P.G. Wodehouse and Ian Hay, "Baa, Baa, Black Sheep"

A three act play from 1931. Read it February 17-18. Not as funny as other Wodehouse plays. RPobably mostly written by Hay. There were a fair share of belly laughs in it making it worth reading.



P.G. Wodehouse (as Basil Windham), "The Luck Stone"

An adventurous school story published in a youth magazine in England beginning in October 1908. Delightful!



P.G. Wodehouse, "Uncle Fred in Springtime"

Wodehouse's last pre-war novel. The beginning of the end of his Golden Period. Read it October 30th-November 5th. Unlce Fred, Lord Ickinham, was the central character of a 1935 short story. He returns to star in a Blandings Castle saga in which he is employeed Lord Emsworth to keep a Duke from taking away the precious pig known as the Empress of Blandings. An absolute delight.
C. Other Fiction:
Philip Roth, "Goodbye Columbus and other stories"

From my Modern Library Collection. Read it January 1-6. A fun read. Probably very risque for it's day, being published in the late 1950s.



Sherman Alexie, "Ten Little Indians"

A Christmas Present from Angela. Read it February 9-16. An intensely enjoyable book. Alexie has immense talent and this collection of short stories shows it off perfectly.



George S. Kaufman, "The Butter and Eggman"

A play by America's premier humorist. This book was later turned ito a novel by Wodehouse. Read it May 23-30. Mildy amusing but satisfying play about the musical comedy business of the 1920s.



"Anthology of American Negro Literature"

A Modern Library book first published in 1929. Read it June 6 - July 5. The poetry was excellent and there was some rivetting non fiction essays as well. A good book that must have been amazing in 1929.



Lynn Johnston, "Reality Check: A For Better or For Worse Collection"

A gift from Angela. Read it August 14-16. Delightful collection of strips from a few years ago.



Stephen Schneck, "The Nightclerk"

Read it August 26-28. Could pass for a primer on bad writing. I bought it as a gift for Cliff who never lets me forget my past occupation of nightclerk.



Thomas Pynchon, "Mason & Dixon"

Reading it January 1st thru September 12th. My third reading. Going at a three page a day pace. One of the great works of 20th century fiction. Now I'm REALLY ready for his new book that comes out in a couple of months! Of course, this one is highly recommended!



Lynn Johnston, "A Look Inside For Better or For Worse"

The Tenth Anniversary collection of the Canadian comic strip. From the Library. Read it October 3rd-5th. Michael is just turning 13. Earliest book I found so far in the series. Delightful.



Marilyn Robinson, "Gillead"

Recommended by Paul. On audiodisk purchased at a church sale. Listened to it October 6th-13th. Absolutely wonderful book that should be required reading for all who think that the novel is dead. This breathes new life into the medium. Highly recommended.



Carl Van Vechten, "Peter Whiffle"

A modern Library published in 1929. Read it November 13th-20th. A very good book that set the 1920s a -roaring. First published in 1922, the same year that saw Ulysses and The Waste Land change the face of modern literature. Lots of real people make appearences in the book, such as Bill Haywood and Max Weber. The book is fun to read, painting the picture of the artist as misfit, predating the beatnicks by 30 years.



Jane Smiley, "Good Faith"

On audiocasette purchased at a recent library sale. Listened to it December 15-29. Very entertaining book about the real estate boom of the early Reagan years. Kind of like a Carl Hiaasen without much humor.
D. Non Fiction:
Nicholson Baker and Margaret Brentano, "The World On Sunday"

From the library. Read it January 17-24. A beautiful large book of reproductions from the pages of Joseph Pulitzer's newpaper The World, published between 1898 and 1911. The newsprint is too small to read, but the art is an eye-popping joy.



Ralph Nader, "Crashing the Party"

A Christmas Present from Judy. Read it January 15-28. Nader obviously had the best platform and a long history of great support to the poorer people of the U.S., but trying to build a movement by running for president with five per cent of the vote is in my opinion not the way to build a reform movement. Still this book left me feeling somewhat less negative about Nader.



R. Crumb and Peter Poplaski, "The R. Crumb Handbook"

A Christmas Present from Rob. Read it Feb 24-27. Lots of fascinating stuff from one of the truly great graphic artists of my lifetime. My only complaint is that some of the cartoons were reproduced too small for my tired old eyes to comprehend. There's just enough biographical information in this book to make it indispensible for Crumb fanatics.



Charles C. Mann, "1491: New Revelations of the Americas Before Columbus"

One of the Salon top five non fiction books of 2005. From the library on audiotape. Listened to it March 23-31. This is one powerful book, supremely well written and with a fascinating, vital message. So much has come to light about the early history of the Americas since the days I went to school, that this is almost like reading a science fiction book of an alternative world. I can't give this book enough praise. Read it. Please. Highly recommended.



Steven D. Levitt and Stephen J. Dubner, "Freakonomics"

Loaned to me by Mary Fiore. Rogue economics book. Read it May 20-22. Interesting ways of thinking outside the box. Very light and fast moving reading.



Bob Merlis and David Seay, "Heart & Soul"

A birthday present from Kathy. Read it May 31 through June 5th. A Celebration of Black music style in America 1930-1975. Beautiful book and a fun read with lots of info I had not seen before about the music I loved so much in my childhood.



Lloyd Johnson, "Baseball's Book of Firsts"

A Christmas Present from Kathy. Read it June 6-17. A delight from beginning to end. Interesting trivia and great photos and drawings.



Gene Carney, "Burying the Black Sox"

A birthday present from Rob. Read it July 8-23. An incredilby engrossing book. You don't have to be a baseball fan to appreciate the good writing and the interesting accounts of the early 1920s. Highly recommended.



Bill Madden, "Pride of October"

A Gift from Kathy. I'm going to "breeze through it and pass it along to a Yankee fan. Read it October 22nd-29th. Informative but not terribly well written.



Stacy Schiff, "A Great Improvisation"

A book on audio disk I bought at a church sale over the summer. Subtitled "Franklin, France and the Birth of America." Listened to it November 1st-5th. Very interesting story of Franklin's six year stay in France, where he witnessed the revolution from afar. He was in his late 70 then, but still had a large hand in shaping the destiny of te United States.



Mark Brend, "American Troubadours"

A gift from Kathy. Subtitled "Groundbreaking Singer Songwriters of the 50s." Read it November 6th-8th. Lots of interesting information and pictures on nine musicians. I'd heard of almost all of them, was a fan of one or two of them and saw another of them perform in concert.


E. Mysteries:
Agatha Christie, "Murder at Hazelmoor"

1931 mystery. Read it January 7-14. Another immensely satisfying mystery from the master. The sleuth is a young woman, who is engaged to the person falsely accused of the murder. There were about a dozen fully developed charcters in this little gem.



Stuart Kaminsky, "Red Chameleon"

The third in the Inspector Rostnikov mystery series. From the library. Read it Feb 19-23. Rostnikov and his team wrap up three mysteries in just over 200 pages in fine McBain style. A total enjoyment.



Ruth Rendell, "The Best Man to Die"

The fourth in the Inspector Wexford series. From the library on audiotape. Listened to it March 1-4. A total delight, even though I did figure out the solution to the mystery. Wexford finally becomes a fully developed character with a family. One of his daughters unwittingly helps him with the case. Rendell is a very good writer.



Dorothy Sayers, "The Five Red Herrings"

A Lord Peter Wimsey mystery from 1931. Read it September 13th-October 21st. A good read but slow going due to all the Scopttish dialect and the heavy emphasis on scottish towns and railroad routes. Wimsey's butler, Bunter, has a reduced role in this one, which diminished the enjoyment of the tale for me.



Sue Grafton, "S is for Silence"

From the library. Read it November 9th-10th. Finally a decent Kinsey Milhone mystery! First good book after a string of clinkers.



Earl Der Biggers, "Keeper of the Keys"

LAst Charlie Chan novel before Der Biggers untimely demise in 1933. Read it November 10th-11th.



Stuart Kaminsky, "A Fine Red Rain"

The fourth in the Inspector Rostnikov mystery series. Read it November 11th-12th. Rostnikov manages to turn a demotion into a triumph. Great fun.



Ruth Rendell, "A Guilty Thing Surprised"

The fifth in the Inspector Wexford series. Read to it November 12th-13th. Another totally satisfying mystery from a master storyteller.
total books read in 2006: 43.3
total from the library: 13
total listened to: 4

---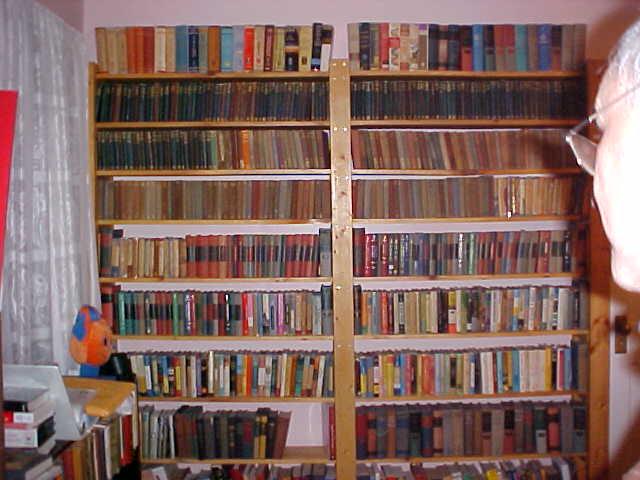 ---
On to next year!


Back to last year!


To home page