A. Booker Prize winners and Short Listers, Salon top ten and other literary award winners:
Nicola Barker, "Darkmans"

One of the 2007 Booker nominees. From the library. Read it January 23-30. A wild ride of a book. Certainly a better book than the Booker winner and perhaps equal to the other great nominee of 2007, "Mr. Pip." Barker spins a tale that seemed to me like a combination of William Gaddis by way of Martin Amis. A dozen memorable characters and a plot that keeps getting better as the book furious moves toward a conclusion. This is the shortest 800 page novel I've ever read. I'll remember this one for a long time.



Indra Sinha, "Animal's People"

One of the 2007 Booker nominees. From the library. Read it April 8-16. Well written and moving, but not in the same league with Mr. Pip and Darkmans. The book tells of the efforts of the villagers near Bhopal who suffered worst during the 1986 Union Carbide chemical disaster. The main character is called Animal because his spine was fused in such a way that he cannot walk upright.



V. S. Naipaul, "A Bend in the River"

On the 1979 Booker short list. Read it August 15-22. Naipul's book is fascinating look at revolutionary Africa, but his style of writing really irritated me and I never got used to it. I'm glad I read this, but it was not fun to read.



Aravind Adiga, "The White Tiger"

On the 2008 Booker short list. From the Library. Read it September 9-14.



Steve Toltz, "A Fraction of the Whole"

On the 2008 Booker short list. From the library. Read it September 15th - October 5th. Hard to understand why this book was a nominee. Very clearly a first novel, with some good elements but many more poor ones.



Sebastian Barry, "The Secret Scripture"

On the 2008 Booker short list. From the library. Read it October 5-11. A wonderfully written and moving account of Ireland in the early part of the twentieth century. Rather a silly ending but overall a very successful bit of literature.



Magnus Mills, "The Restraint of Beasts"

A 1998 Booker short lister. Read it Oct 24-25. Blurbed by Thomas Pynchon. The attempts to emulate Kafka were occasionally successful. It's hard to imagine how any other author could match the magical way Kafka can evoke despair over the human condition. So I appreciate it as an homage to Kafka even if as a novel it left more than a little to be desired.
B. Wodehouse:
P.G. Wodehouse, "Spring Fever"

one of two novels the master published in 1948. This one has all new characters, all of which are incarnations of the Wodehouse stock company. Read it February 23rd thru March 5th. Not as funny as his series books, but a good romp nonetheless.



P.G. Wodehouse, "Uncle Dynamite"

The second Wodehouse novel to be published in 1948. Read it May 27 - June 21. A total delight. Uncle Fred is overshadowed in the Wodehouse cannon by Bertie, Jeeves and the Blandings crew, but Uncle Fred and his family are timeless creations.



P.G. Wodehouse, "The Mating Season"

Almost halfway through the Jeeves cannon. Read it August 31 - October 22. This was a wonderful addition to the Jeeves cannon, with a perfectly written plot Wodehouse's prose shimmers on the page. As usual an absolute Joy.



P.G. Wodehouse, "Nothing Serious"

Read it October 26-27. Actually, I read half of them earlier in my chronological reading of the master. The next five are all next in the chronological stack, so I will finish the book now. The book contains two Drones stories, five golf stories told by the eldest member, a Lord Emsworth story, a Ukridge story and one unconnected tale. A few chuckles.
C. Other Fiction:
Kate Moses, "Wintering"

This book got good reviews several years ago and I am a big fan of Sylvia Plath. Read it December 24th - January 11th. Impressive and disappointing at the same time. Moses has a great vocabulary and command of her subject, but the book never engaged me emotionally. The fact that she was tremendously successful, tremendously unhappy, and mentally unbalanced are well known. Moses failed to make me feel these things. Too bad. I had great hopes for this book.



Carl Hiaasen, "Flush"

A digital download from the library. Listened to it January 28-31. A book written for teens, but Hiaasen never fails to delight the reader no matter what age. Fun characters, great plot. In other words a typical Hiassen romp in South Florida.



Jane Smiley, "Horse Heaven"

A novel on audio cassette purchased at a library sale. Listened to it February 19 - March 2. A long sweeping look at the thoroughbred racing world. Most of the characters I enjoyed following through the plot. A few were a chore to follow. The lives of the horses were the best part. I fell in love with Justa Bob. I'd buy a Justa Bob tee shirt if such a thing existed!



James M. Cain, "The Postman Always Rings Twice"

First novel in the Library of America collection "Crime Novels: American Noir of the 1930s & 40s." Read it March 6-7. Very dark and despairing. Cain's characters are all doomed and march toward their destiny like characters in a Shakespearean tragedy.



Horace McCoy, "They Shoot Horses, Don't They"

Second in the LOA Crime Novels 30s-40s collection. Read it March 7-8. Very short and intense. A fascination tale of desperation in the depression. It depicts a dance marathon in which the last couple standing is supposed to get one thousand dollars. Desperation of all kinds abound with completely tragic results.



Edward Anderson, "Thieves Like Us"

Third in the LOA Crime Novels 30s-40s collection. Read it March 8-9. An amazing gem of a novel. Thrilling from the first page to the last. Bank robbers try to fit into a society in which everyone is a thief in their own way.



Kenneth Fearing, "The Big Clock"

Fourth in the LOA Crime Novels 30s-40s collection. Read it March 9-10. Takes a while to get going, but once the murder is committed, the book takes off in an intense spurt of adrenaline which continues through the last page.



William Lindsay Gresham, "Nightmare Alley"

Fifth in the LOA Crime Novels 30s-40s collection. Read it March 10-18. A dark look at the life of a carnival worker with ambitions to fleece gullible people out of money based on spiritualism.



Cornell Woolrich, "I Married a Dead Man"

Sixth and last in the LOA Crime Novels 30s-40s collection. Read it March 18-23. Lots of great suspense draped around an absurd plot.



Anna Quindlen, "Blessings"

On audiotape purchased at a library sale last year. Listened to it March 29 - April 3. A beautifully written book, incredibly involving and heartbreaking.



Tom Robbins, "Fierce Invalids Home from Hot Climates"

On audiotape purchased at a library sale last year. Listened to it May 20-27. Typical Robbins verring between the intensely annoying and supremely delightful. All in all a fun story.



Leo Tolstoy, "Anna Karenina"

The Modern Library edition published in 1930. Readiit April 30 - May 31st. A long and delightful read. Tolstoy brings 19th century Russia to life and the characters are still as fresh and vibrant as the day the book was first printed.



Carl Hiaasen, "Skinny Dip"

A Digital download from the library. Listened to it June 16-21. A very funny and emotionally satisfying story. Hiassen is a richly rewarding writer.



Roz Chast, "Childproof"

A cartoon collection. Reading it July 1220. Chast is delightful as always.



John Mortimer, "Rumpole on Trial"

Short story collection on audio cassette puchased at library booksale. Listened to it July 17-21. Very well crafted short stories. Effective mysteries laced with warm British humor. I loved it and am looking forward to listening to the other Rumpole audio book I got at the same library sale.



Helen DeWitt, "Your Name Here"

Downloaded from her website at Thomas's prompting. Started Read it July 11th - August 3rd. Deeply disturbing. An angry book by a possibly disturbed person. I don't know how much one can read into an intensely post-modern work, but I'm hoping Helen Dewitt is much more stable than her characters!



Jim Thompson, "The Killer in Me"

First novel in the Library of America American Noir of the 1950s (a gift from Tom). Read it August 3-14. Very unpleasant experience in that the narrator was the villain. I have a hard time with books like that. But it was a very intense crime novel.



John Mortimer, "Rumpole Rests His Case"

Another short story collection on audio cassette puchased at library booksale. Listened to it August 23-31. Another very entertaining set of short stories from the life of barrister who defends alleged perpetrators.



Patricia Highsmith, "The Talented Mr. Ripley"

Second novel in the Library of America American Noir of the 1950s (a gift from Tom). Read it October 27-28. Extremely well written and neerve-wracking but with an unsatisafactory ending. This was NOT a feel good book!



Madaline Reddy, "My Novel"

Madaline's entry in the 2007 NANOWRIMO. Very interesting, but unfinnished. I hope she goes back to it some day and completes it.
D. Non Fiction:
Ernie Harwell, "Audio Scrapbook"

An audio book on cd given to me by my brother Doug. Listened to it January 10-14. A total delight. Harwell is a great story teller and some the audio clips of interviews were stunning.



Paul Krugman, "Conscience of a Liberal"

A gift from Angela and Dom. Read it January 21-February 20. A passionate account of how government can help people and a call to good hearted people to return the government back in that direction. Hooray for Paul Krugman!



Gyles Brandreth, "The Joy of Lex".

A Christmas gift from Tom. Read it March 6-30. Amusing tour-de-farce of word games and other lexigraphic items of interest. Many puzzles and quizes.



Leonard Maltin, "Movie Crazy"

A birthday gift from Dan. Read it April 2-25. A delightful book full of insights and delights. A pleasure for any old-time movie buff. Maltin's enthusiasm is catching.



Don Borchert, "Free for All"

Recommended by Madaline. From the library. Read it June 21-22. While I wasn't crazy about the author's style or his personal opinions, the subject matter kept me going in this peek inside the workings of a public library.



Vincent Bugliosi, "The Prosecution of George W. Bush for Murder"

A father's day gift from Rob. Read it June 23-28. Doesn't break any new ground but convincingly lays out the scenario where Bush can be made to pay for his crimes. Worth reading by congress and those in the law profession.



Rich Cohen, "Machers and Rockers"

A present from Jeanne. Read it August 1-2. Basically the story of Leonard Chess and his record companies. Some interesting stuff about the bluesmen, but it was mostly stuff I read elsewhere.



John Burk, "The Life and Works of Beethoven"

A Modern Library from 1946. Very interesting to read as I listen to much of his music.
E. Mysteries:
Stuart Kaminsky, "Tarnished Icons".

Eleventh in the Inspector Rostnikov series. Read it January 15-20. A very exciting entry in the series. Lots of character development and thrilling plots. Kaminsky still isn't the writer that his idol Ed McBain was, but the Rostnikov books are great fun.



Stuart Kaminsky, "The Dog Who Bit a Policeman".

Twelfth in the Inspector Rostnikov series. Read it March 5-6. Wonderfully dramatic as Rostnikov's crew breaks up a gang that holds dog fighting contests while Rostnikov tries to keep two other gangs from having a war in which innocent individuals could get hurt in the crossfire.



Sue Grafton, "T is for Trespass"

From the library. Read it February 1-6. As with most of the recent Graftons, this one started out very slow and gradually gained speed. The last quarter of the book was a fast and furious romp that was highly pleasurable, making the entire book worthwhile.



Agatha Christie, "The Tuesday Club Murders"

Early Miss Marple short stories published in book form in 1932. Read it April 2-22. I'm not much of a fan of the Mystery short story, but this was a fun book if only because it developed the character of Miss Marple, the epitome of modest wisdom.



Stuart Kaminsky, "Fall of a Cosmonaut"

Thirteenth in the Inspector Rostnikov series. From the library. A very strong entry in the series. Lots of action and lots of character development.



Ed McBain, "Fiddlers"

From the library on audiodisk. Listened to it May 9-11. The last of the 87th precinct novels. An absolute delight. It certainly didn't feel like a series that was coming to an end. Maybe someone else can continue it. McBain was a master and he willbe sorely missed.



Stuart Kaminsky, "Murder On Trans Siberian Express"

Fourteenth in the Inspector Rostnikov series. Read it June 30th - July 6th. Enjoyable but not as good as the last one. It will be interesting to see what changes Kaminsky makes to the characters returning to them after a seven year layoff. The new book will be published in August



Stuart Kaminsky, "People Who Walk In Darkness".

Fifteenth in the Inspector Rostnikov series. Just published. From the library. Read it August 22-30. Kaminski lost nothing in his six year layoff from the series. He takes up with tht recurring characters right where they left off and presents an entertaining story with more twists at the end than are ususal in the Rostnikov series.



"The Documents in the Case by Dorothy L. Sayers and Robert Eustace

Read it October 23-24. This highly acclaimed novel is in an epistolary format. I don't usually like Epistolary novels, but I enjoyed this one. There's a lot of high minded discussion ranging from religion to science to art and literature and in the middle of it all a grumpy man is cuckolded and murdered. Fun stuff!
total books read in 2008: 48
total from the library: 14
total listened to: 9

---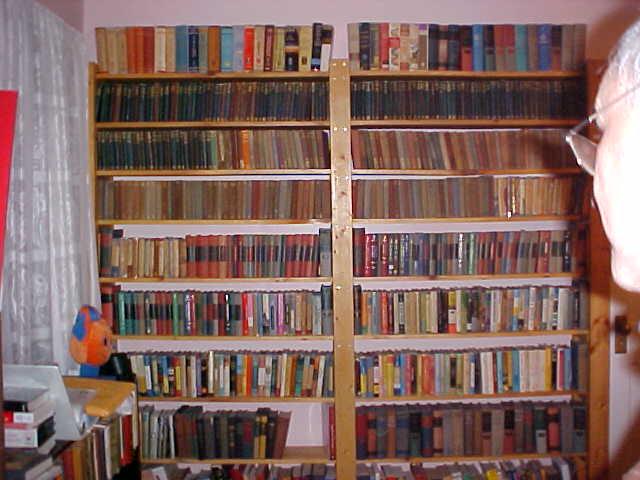 ---
On to next year!


Back to last year!


To home page