A. Booker Prize winners and Short Listers, Salon top ten and other literary award winners:
Amitav Ghosh, "Sea of Poppies"

On the 2008 Booker short list. From the library on audio disk. Started listening to it last year. Finished it on January 10th. A wonderful book. Probably should have won the Booker.



Peter Carey, "Illywhacker"

Booker nominee from 1985. Started reading it last year. Gave up on it half way through. A very silly work, and I was going through the death of my father at the time, which didn't help my reading capabilities.



Roddy Doyle, "The Van"

Booker nominee from 1991. Third in the Barrytown trilogy. Read it in February. Another joy to read. He can really write! Highly recommended



Linda Grant, "The Clothes on Their Backs"

On the 2008 Booker short list. Read it March 27th - April 6th. An enjoyable novel, very well written. However, it's not the type of novel I would nominate for any prize.



Philip Hensher, "The Northern Clemency"

On the 2008 Booker short list. From the library. Read it April 10-26. Very well written but I found nothing prizewortthy about it. On the whole a much less engaging lot of short listers in 2008 compared to 2007.



Roddy Doyle, "Paddy Clark Ha Ha Ha"

The 1993 Booker winner. Read it June 26th - July 12th. An engrossing character study but far too episodic for my taste. I liked his first three books far more. I admit I was diassapointed by this this book.



Sarah Waters, "The Little Stranger"

On the 2009 Booker short list. From the library on audio disk. Listened to it September 8-23. A rather absurd ghost story. I liked her last book alot more.



Brian Unsworth, "Sacred Hunger"

Booker co-winner from 1992. Readi it October 1 - November 6. A fascinating history of the slave trade in 18th century England. Unsworth is a top-notch writer.



Hilary Mantel, "Wolf Hall"

This year's Booker winner. From the library. Read it November 7 - 14. Dense in history and a great insight as to what life was like in the court of Henry VIII. I never warmed to the author's style, but the book was definately worth reading.
B. Wodehouse:
P.G. Wodehouse and Guy Bolton, "Leave it to Jane"

Script for 1917 musical with music by Jerome Kern. Read it March 5-7. Breezy college football musical. Good fun but no comparison to the novels.



P.G. Wodehouse, "The Old Reliable"

Read it April 27th - May 21st. This one had some moments but I have to admit it was one of the master's weakest. A completely new set of characters, not one of them memorable.



P.G. Wodehouse, "The Eighteen Carat Kid"

A re-readof the early novella, this time in the original magazine serial format with illustrations. Read it July 12-17. A wonderful young adult adventure story with lots of great humor. Not quite a school story, but far from the roamnces that would soon follow.



P.G. Wodehouse, "Barmy in Wonderland"

First of two books the master published in 1952. Read it August 17-27. Much better than his previous book. A delight from start to finish. Loosely based on a George S. Kaufman play. I really enjoyed it.



P.G. Wodehouse, "Pigs have wings"

A Blandings novel published in 1952. Read it November 15-29. A delightful addition to the Blandings saga with some of the characters engaged to two people at the same time. All the plot lines are resolved in typically masterly fashion.
C. Other Fiction:
Roddy Doyle, "The Commitments"

Read it in February. A fabulous read. What a debut!



Roddy Doyle, The Snapper"

Read it in February. Second in the Barrytown trilogy. A joy to read.



R. Crumb, "Waiting For Food 2"

A birthday present from Rob and Judy. Read it all March 15th. Wonderful drawings with a modicum of wit thrown in.



Thomas Pynchon, "Against the Day"

Reading it five pages a day. Started it January 1st. Finished it a couple of days ahead of schedule: August 1st. A rare work of genius. A lot of work required to read it, but definately worth it. Highly recommended



Thomas Pynchon, "Inherent Vice"

Read it August 4-9. At first read, not a very strong entry in Pynchon's ouvre. We'll see what a re-read next year brings.



Bill Amend, "Take Us to your Mall"

A collection of Foxtrot comic strips from 1995. Read it all August 15th. Most of the strips new to me and very enjoyable.



Granta, "Best of Young British Novelists 2003"

Familiar with about half of the twenty authors presented herin, including some of the ones I've enjoyed the most over the last few years: Zadie Smith, David Mitchell, Nicola Barker. Read it August 17 - September 4. Some very good stories. I much prefer novels, though.



James Huneker, "Painted Veils"

A novel published by the modern library in 1930. Huneker was an art critic and this was his only novel. Read it August 27 - September 10. Huneker notes at the end of the book that he wrote it over the course of 48 days in 1919. It was privately published in 1920 and he died in 1921 at the age of 62. The novel was considered quite daring in its day and it must have been an eye opener for metropolitan young people when it was mass marketed by the Modern Library a decade later. The novel is full of free thinkers who would be right at home in the swinging 1960s. A rollicking good read for pa philosophical novel.



E.C. Segar, "Complete Popeye, volume nine"

Stasrted reading it September 17-25. Another wonderful romp into a a great world in Segar's brain.



Barbara Kingsolver, "The Poisonwood Bible"

On audiocassette purchased at a booksale. Listened to it November 24th - December 4th. A great left wing novel about America's not so honorable role int e world of the early 1960s.



"Dan Chaon, Await Your Reply"

Cliff's pick for best book of the year. From the library on audio disc. Listened to it December 5-9. Deeply disturbing. Ostensibly a thriller about identity theft, but really a meditation on the nature of identity.
D. Non Fiction:
Irene Pepperberg, "Alex And Me"

A Christmas present from Angela and Dom. Read it January 19th - February 18th. A most astonishing and wonderful book.



Irving Singer, "Ingmar Bergman, Cinematic Philosopher"

A Christmas present from Rob and Judy. Read it February 19-20. Some nice insights into the films and the man. Makes me want to watch all the films again!



Tom Tomorrow, "The Future is So Bright I Can't Bear to Look"

Christmas present from Angela. Read it March 7-11. An entertaining look back over the last four years of political misery.



Mickey Z., "50 American Revolutions You're Not Supposed to Know"

A Christmas present from Rob & Judy. Read it March 9-15. Excellent alternatine history book.



Stuart A. Kallen, "Sixties Counterculture"

A Christmas Present from Dom and Angela. Read it March 16-19. Interesting first hand accounts from the decade in which I grew up. The best part was the story of the Diggers.



Lynn Abbott, "I Got Two Wings"

A birthday prtesent from Dom and Angela. The story of a Black Gospel Evangelist. Read it March 20-26. First rate orginal source reporting on the life of a guitar slinging evangelist. Great stuff! Nice cd accomapnying it.



Todd Alden, "The Essential Rene Magritte"

A birthday present from Kathy. Read it April 27 to May 18th. For a short book, this was an amazingly complete look at an awesome painter, one of my favorites. Highly recommended



Frank McCourt, "Teacher Man"

On audiocassette purchased at a booksale last year. Listened to it June 5 -10. Extremely well written account of McCourt's highs and lows during his 30 year career of teaching in New York City's public high schools. Highly recommended



Steven Goldman, "Forging Genius: The Making of Casey Stengel"

A birthday present from Kathy. Read it May 30 - June 22. I didn't care for the writing style of the author, but the story was engrossing: a man who loves the game so much he stays with it despite no chance of ever managing a winner. The book ends with Casey finally landing a job with the money and talent rich Yankees.



Frank Deford, "The Old Ball Game"

A father's day gift from Kathy. Read it July 12-22. This was a very enjoyable book about a very interesting period in Baseball history.



Paul Krugman, "The Age of Diminished Expectations"

A Christmas present from Rob and Judy. Krugman wrote this during the last economic crisis. Started reading it July 29th - August 16th. Very interesting overview of macro economics by an economist who can really write to be understood by non economists.



Dave Eggers, "Zeitoun"

Reccomended by Angela. Read it September 11-16. A remarkable book. The writing, the story, the characters all shine with a pure bright light. Dave Eggers is building a remarkable bibliography. He gets my vote for most exciting young American author. Highly recommended



Erin McHugh, "Who?"

A gift from Kathy. First of a set of the 5 Ws. Trivia material. Read it September 18-30. Delightful! Learned some great trivia.
E. Mysteries:
Margaret Summerton, "The Sea House"

A Christmas present from Tom, a random mystery plucked from the Berry Hill shelves. Read it February 20-21. Interesting enough to keep me going, but not much of a mystery.



Stieg Larsson, "The Girl With the Dragon Tattoo"

Recommended by Madealine. Digital Download from the library. Listened to it April 4-14. Very entertaining, if excessively dark at times. The character of Lizbeth Salender is a wonderful creation. The mystery plot is wrapped up long before the novel is over, but other than that it was a fun book.



Ruth Rendell, "Murder Being Once Done"

The Seventh Inspector Wexford mystery. Read it May 22-29. Very entertaining. Great plot with lots of twists and turns and a completely satisfying ending.



Ellery Queen, "The Tragedy of X"

The first mystery published by the Queen team in 1932. Read it July 22-29. Entertaining yarn with a completely unsolveable solution that took the authors forty pages to explain!



Stieg Larsson, "The Girl Who Played With Fire"

On audiodisc from the library. Started Listened to it August 9-19. Larsson still takes too long to tell the story, but there's a lot to enjoy in this book and it is great fun. This time the book comes to a screeching halt instead of dragging on and on as the first one did. The third and final book (Larrson died right after he wrote it) will be out in a few months and I look forward to it.



Charles Willeford, "The Pick-Up"

Third novel in the Library of America American Noir of the 1950s (a gift from Tom). Read it November 29th - December 3rd. Entertaining bit of noir. If it was supposed to be a surprise ending I figured it out almost from the beginning of the book.



Ruth Rendell, "Some Lie and Some Die"

The Eighth Inspector Wexford mystery. Read it December 6-8. Not the strongest entry in the series, but entertaining.
total books read in 2009: 44 1/2
total from the library: 7
total listened to: 7

---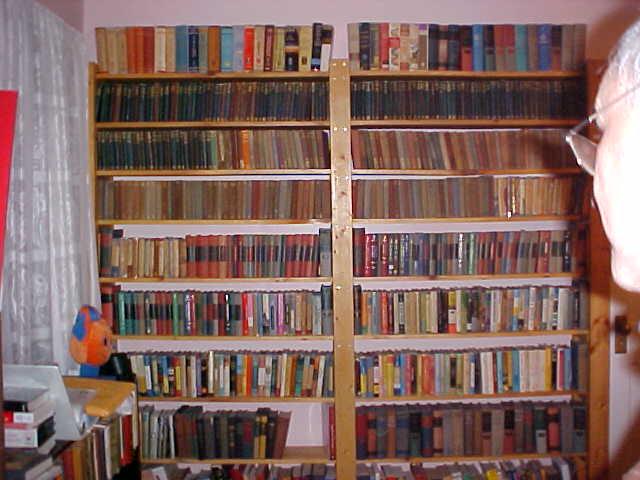 ---
On to next year!


Back to last year!


To home page