A. Booker Prize winners and Short Listers, Salon top ten and other literary award winners:
Michael Ondaatje, "The English Patient"

Co-winner of the Booker in 1992. Read it December 9th - January 8th. This seemed something of a mishmash to me. It seemed to be well researched but I never really felt engaged.



J. M. Coetzee, "Summertime"

A 2009 Booker short lister. From the library. Read it January 22-27. Very well written and entertaining but hardly a prize winner.



A. S. Byatt, "The Children's Book"

A 2009 Booker short lister. From the library. Read it February 15-27. Easily the best book on the shortlist I've read so far. A remarkable accomplishment by this most wonderful writer. From 1895 through World War I a group of progressive families are followed as the children grow up and try to live as adults. Some similar themes to Pynchon's Against the Day. Highly recommended



Simon Mawer, "The Glass Room"

A 2009 Booker short lister. From the library. Read it March 5-10. A moving work that covers the life of a modernistic building constructed in a small city in Czechoslovakia in the 1920s as a modernistic residence for an industrialist and his wife. They do not practice their religions, but the man is a Jew and so they abandon the house and flee to Switzerland at the start of World War II. The disposition of the house is followed through the war and decades afterward. This is an ambitious work of fiction that almost achieves its goal of turning the house into the main character of the book.



Tim Parks, "Europa"

A Booker short lister from 1997. From the library. Read it April 1-7. An intense tour-de-force inside the mind of a middle aged intellectual with the personality of an adolescent. Very readable but not especially edifying.



Bernard MacLaverty, "Grace Notes"

Booker nominee from 1997. From the library. Read it May 31st - June 10th. A very well written book that includes some deeply interesting insights into the mystery of composing.



Adam Foulds, "The Quickening Maze"

A 2009 Booker short lister. From the library. Read it July 11-18. A very sad story of a mental hospital in England in the 1830s. It was about as much of a nightmare as one would expect. The main character, a poet,struggles with his mental difficulties and never really overcomes them.



Sarah Waters, "Fingersmith"

A Booker shortlister from 1992. Started reading it August 6-12. A wonderful page turner with some literary overtones. I really enjoyed it. Not as good a book as her later "The Night Watch" but definitely worth reading.



Shirley Hazzard, "The Bay of Noon"

One of the recently nominated books for the "lost Booker prize" of 1970. Read it September 2-10. A beautifully crafted book depicting a woman's love affair with the city of Naples, Italy. She runs from her romantic feelings toward her brother to a foreign country and remains aloof from emotional entanglements with men until she takes on a charity case near the end of the book. I found it fascinating.



Andrea Levy, "The Long Song"

A Booker short lister for 2010. From the library. Read it September 11-15. Very entertaining story of Negro struggles in the last days of slavery and the years afterward on the island of Jamaica. Not the best novelized account of slavery I've read, but definitely worth reading.



Tom McCarthy, "C"

A Booker short lister for 2010. From the Library. Read it September 15-21. Very disappointing. Not because it was bad, but because it was not as good as it might have been. I never warmed to his writing style. The plot and characters were interesting, carrying me along, but it was a slog.



Peter Carey, "Parrot and Olivier in America"

A Booker short lister for 2010. Audio digital download from the library. Listened to it September 11-22. Mildly entertaining but not particularly engrossing fictionalized account of DeToquiville's adventures in America at the time of Andrew Jackson's presidency.



Emma Donoghue, "Room"

A Booker short lister for 2010. From the Library. Read it September 22-25. The first half of the book was riveting. The second half was carried due to the reader's involvement in the very real characters. I wouldn't call this a great book, but it was well worth reading. If I could have changed one thing it would be the whole sub-plot of the breast feeding of a five year old boy, which was revolting and totally out of place with the rest of the book.



Howard Jacobson, "The Finkler Question"

The 2010 Booker Prize winner. From the library. Read it November 11-19. An enjoyable interesting read. Probably the best of the short list that was lacking at least one masterpiece. The word Finkler is a euphemism used by the main character in place of the word Jew. Finkler was his friend and prototypical Jew in the main character's opinion. Jacobson is not the most lucid of authors, but I quite liked the book almost in spite of his style of writing.



Damon Galgut, "In a Strange Room"

A Booker Short lister for 2010. Fro mthe library. Read it November 24-29. An engaging tale of low-cost tourism. The last of the three "journeys" was especially powerful, involving the story of a mentally ill, self-destructive fellow traveller.



Tim Winton, "Dirt Music"

Nominated for the Booker prize in 2002. Read it November 30tth - December 12th. A bunch of sorrowful characters moving across a great swathe of geography in western Australia. There's a great deal of information about fishing and survivalism. An interesting book, albeit a somber one.
B. Wodehouse:
P.G. Wodehouse, "The Return of Jeeves"

The first of two titles released by the master in 1953. Reading it January 14-17. A delightful novelization of a play Wodehouse wrote with Guy Bolton.



P.G. Wodehouse, "Bring on the Girls!"

Read it January 28th - February 10th. This was the first attempt by Wodehouse at autobiography. He was 72 and looking back on his involvement in the invention of modern Musical Comedy in the 1920s and earlier. Some laugh out loud anecdotes and lots of great popular history.



P.G. Wodehouse, "Jeeves and the Feudal Spirit"

Classic 1950s Wodehouse. Read it March 21-31. A joy from the first page to the last.



P.G. Wodehouse, "A Few Quick Ones"

Short stories written in the 1950s. Read it July 18-21. Pears of perfect humor from the master at the height of his powers.



P.G. Wodehouse, "French Leave"

A non-series novel from 1956. Read it August 13-15. I think Wodehouse envisioned this as the start of a new series but didn't follow up on it. It was amusing but not as much as many others.



P.G. Wodehouse, "Something Fishy"

Read it October 18-23. One of the master's more complicated plots. Took more pages than usual to engage me, but once engaged, it was blissful ride.
C. Other Fiction:
Carlos Ruiz Zafon, "The Shadow of the Wind"

Recommended by Kathy's friend Susie. From the library on audiotape. Listened to it January 13-21. I loved the characters but the plot and the writing style were really annoying.



E. L. Doctorow, "Ragtime"

Paul insisted I read some Doctorow. I had this book on my shelf. Read it Feb 27th - March 1st. He uses an odd style of writing to tell the tale, but it was engaging and I enjoyed the book.



J.D. Salinger, "The Catcher in the Rye"

Modern Library edition. Read it March 11-17. From my advanced age Holden Caulfield now comes off more like a spoiled brat than a troubled teenager. Still you get the impression that Sallinger is able to dig deep into the seething cauldron of teenaged angst.



Manuel Komroff, "Oriental Romances"

A modern library published in 1930. Komroff edited this collection of 21 stories from Persia, India, Arabia, Tibet, Japan and Turkey. Read it March 11-29. A few really good stories mixed in with a lot of flowery sop. I'm not a fan of short story collections and this did nothing to change my opinion.



David Mitchell, "The Thousand Autumns of Jacob De Zoet"

An advanced reader's copy of the book scheduled to be published in June. Read it April 13th - May 1st. Wonderful, wonderful, wonderful! If it doesn't land on this year's Booker short list, there is something very wrong with the judges. It tells the tale of a clerk for the Dutch East India Company on the manmade island of Dejima off Nagasaki Japan at the beginning of the nineteenth century. It is a richly complex plot that is superbly executed and resolved. The characters are three dimensional and more than a few will live in my mind for a long time to come. Highly recommended



Joseph Conrad, "Lord Jim"

On tape purchased at the Watertown library sale last year. Listened to it May 20-24. A riveting masterpiece that has a lot to say about human nature, albeit filtered through the eyes of western superiority. A true classic.



MacDonald Harris, "The Balloonist"

Recommended by Cliff. Read it July 3-10. Very interesting story of ill fated attempt to travel to the North Pole by balloon. Definitely source material for Pynchon's "Against the Day."



Roberto Bolano, "The Savage Detectives"

A loaner from Paul. Started reading it July 22nd. Called it quits on July 27th at about one third through. Totally uninteresting and artless.



Carson McCullers, "The Heart is a Lonely Hunter"

First in the Library of America collection of her five novels. Read it August 16-22. A remarkable book. Shines a great light on the sentiments of ordinary Americans just before World War II filled the American consciousness. Published 20 years before "To Kill a Mockingbird," McCuller's book must have had a great influence on Harper Lee, who was 14 years old (the same age as Mick, one of the main characters) when THIALH hit the best sellers list. I don't think this book is as good as Lee's but I can see why it packed a wallop at the time it came out. Highly recommended



Gail Carson Levine, "Dave at Night"

A book written by my cousin about her father's difficult youth. Read it August 28th - September 1st. I never warmed to Gail's writing style, but the story was wonderful and the characters totally engaging so it was a fun and compelling read.



E. Nesbit, "Five Children and It"

Children's book from 1902. Nesbit was a founder of the Fabian Society in England. Read it October 3-10. Enjoyable but not especially wonderful childrens book. Definitely would have enjoyed reading it to my kids when they were little. I can picture the fun we would have had with it.



David Mitchell, "The Thousand Autumns of Jacob De Zoet"

Yes a "re-read!" But this time a "listen." From the library on disk in mp3 format. Listening to it October 7-20. Just a wonderful book. Loved it the second time as much as the first.



Carson McCullers, "Reflections in a Golden Eye"

Second in the Library of America collection of her five novels. Read it November 1-23. Short but packed with tense, dramatic writing. There isn't a happy person in the whole book and they make the reader suffer along with them. It takes very good writing to get me through a book like this!
D. Non Fiction:
Joe Maguire, "Brainless, the Lies and Lunacy of Ann Coulter"

A Christmas gift from Jeanne. Read it January 11-13. Not much in it I didn't already know. Mildly entertaining nonetheless.



Jim Marshall, "Jazz"

A coffee table book of photographs of jazz musicians. A Christmas gift from Kathy. Read it January 22nd. Some really awesome photos of true legends.



Robert Shnankenberg, "Secret Lives of Great Filmmakers"

A birthday gift from Dan Evans. Tidbits from the lives of over 40 great filmmakers from D.W. Griffith to Quentin Tarrantino. Read it April 1-12. Lively but smarmy book that tries to find the worst in every person mentioned.



F.X. Feeny, "Movie Icons: Wells"

A birthday present from Kathy. Mostly pictures. Read it May 7-9.



F.X. Feeny, "Movie Icons: Dean"

A birthday present from Kathy. Mostly pictures. Read it May 12-13.



James Ursini, "Movie Icons: Dietrich"

A birthday present from Kathy. Mostly pictures. Read it May 10-11.



Eugene Bergmann, "Excelsior You Fathead, the Art and Enigma of Gene Shepherd"

One of my childhood fascinations. Read it May 15 - June 26. Extremely interesting. While it fails in the end as biography, it delivers on what is most needed: giving the whole picture of the career of Jean Shepherd, a master storyteller.



H.L. Mencken, "Selected Prejudices"

A Modern Library published in 1930. Read it July 31st - August 5th. Mencken is an awfully good writer who certainly has the strongest opinions on just about everything. His vocabulary alone makes him worth reading!



Roxane Orgil, "Shout, Sister, Shout: Ten Girl Singers Who Shaped a Century"

Includes profiles on Joan Baez, Lucinda Williams and Anita O'Day. Read it October 24-28. Some interesting information. Definitely geared for teenaged girl consumption.
E. Mysteries:
David Goodis, "Down There"

Fourth novel in the Library of America American Noir of the 1950s (a gift from Tom). The basis for Truffaut's movie "Shoot the Piano Player." Read it January 18-20. A honey of a trashy noir novel. Best of the four in the book I've read so far.



Chester Himes, "The Real Cool Killers"

Fifth and final novel in the Library of America American Noir of the 1950s (a gift from Tom). A detective novel set in Harlem in the 1950s. Read it February 11-14. Incredibly negative view of Harlem in the 1950s. In ten years this book would not have even found a publisher.



Ruth Rendell, "Shake Hands Forever"

Read it March 1-2. One of the better in the Inspector Wexford Series. I almost had the mystery figured out but there were a few twists that escaped me.



Ruth Rendell, "The Face of Trespass"

One of Rendell's early non-series books. Read it March 2-7. Not much of a mystery. At least for once Rendell had a somewhat likeable main character.



Sue Grafton, "U is for Undertow"

I started reading with "J" (of course going back to "A" through "I" first) and here we are with the 21st in the series. From the library. Reading it March 25-30. An interesting plot without much mystery to it. A great ending, richly satisfying. I just wish there had been more action in the story. I did enjoy it a good deal and am as always looking forward to the next installment.



Ellery Queen, "The Greek Coffin Mystery"

One of several released in 1932 by the mystery writing machine. Read it May 19-30. I know I read this one before but didn't have a shred of memory as to who done it. A very enjoyable entry in the long running series.



Stieg Larsson, "The Girl Who Kicked the Hornets Nest"

Digital download from Audible. Listened to it June 24-29. An excellent conclusion to the Larsson trilogy. I really enjoyed his style of writing and of course Lisbeth is just a sensational character.



Donald Westlake, "The Hot Rock"

Recommended by Cliff. Read it July 28-31. Very entertaining and amusing.



Donald Westlake, "Bank Shot"

The second Westlake novel featuring John Dortmunder. From the library on audiocasette. Listened to it August 12-18. This one was even funnier and more entertaining than the first one. I look forward to the rest of this series which runs to 15 books, the last of which was published posthumously (Westlake died in 2008).



Stuart Kaminsky, "A Whisper to the Living"

Last of the Rostnikov mysteries. Kaminsky died in the fall of 2009 and this book was published in January of 2010. From the library. Read it August 23-27. A lovely book. I wish Kaminsky could have written many more. I am just crazy about almost all of the recurring characters and it's a sad farewell to know I've gotten to the end of the line.



Donald Westlake, "361"

Very early Westlake, from 1962. Read it October 29-31. A readable mystery, with lots of crime and violence in the style of 1950s hard boiled writers.



Donald Westlake, "The Fugitive Pidgeon"

Pre Dortmunder Westlake, from 1965. Read it December 14-18. More humor than his earlier book. A good puzzler of a mystery even if the book is mainly a breathless race by the main chanarcter to save his own life.
total books read in 2010: 55 1/3
total from the library: 18
total listened to: 6

---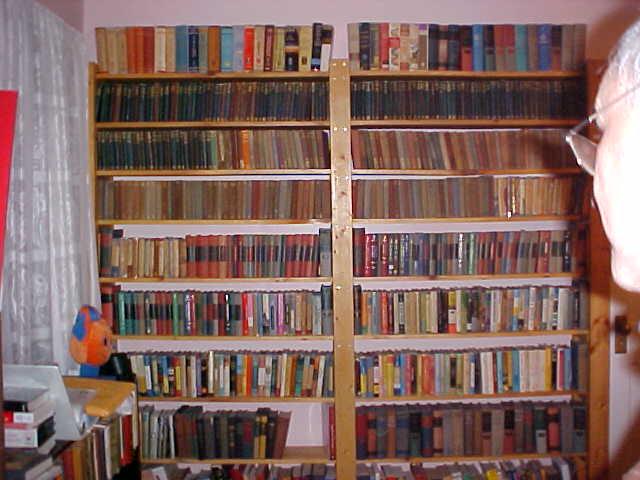 ---
On to next year!


Back to last year!


To home page